November 21, 2022
Black Friday & Cyber Monday 30% Big Discount Event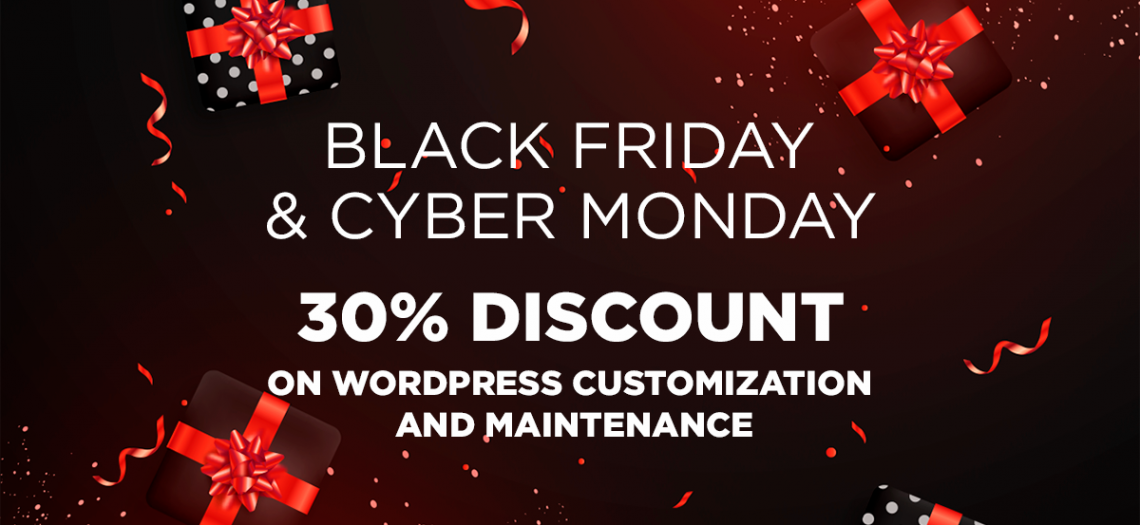 We welcome our users to the holiday season that is approaching and we have two big events happening! We are excited to announce that Black Friday and Cyber Monday annual deal officially has been started!

The Black Friday Discount will last from November 21 to December 05. During the glorious discount period, you will get a flat 30% discount for both One-Time website and WordPress customization workarounds and for a subscription to WordPress maintenance plans!

We strongly encourage you to use this discount with maximum benefit, because we are proud of our WordPress experts. They are barely able to check, analyze, fix and modernize any WordPress issues, implement new features and give consultations.

Using the discounts is pretty straightforward and simple. All you need to do is just copy this coupon code – BFGMC894

This coupon code works for both one-time customization jobs and maintenance plans. Just paste this copied coupon code in the checkout (coupon code section) and you will get a 30% minus discount from the initial price.

Form for applying for a one-time customization job click on the button below:
Subscribe to get a regular WordPress maintenance service from WordPress experts
Although WordPress is a fairly advanced and user-friendly content system, it still requires periodic monitoring, updating, and maintenance of the entire system.
If you need to focus more on your business and not worry about installing, configuring, and maintaining WordPress and your website, then our plans are a great way to entrust your website and all the technical work to our team of experts.
You can choose one of our three plans and get great bonuses such as:
Included developer's hours (depends on the selected plan. Maximum 4 free hours)
Price off to the extra developers' hours ( useful when you need to hire us for more time)
WordPress core updates
WordPress Theme and Plugins updates – sometimes it might be really tricky to update a bunch of plugins on your website because of the individual structure and update process of each plugin
Website Speed Optimization
Daily Malware Scanning
Unlimited Images Optimization
Daily On-Page SEO Audit
24/7 Uptime Monitoring
60-days Backup Archive
Dedicated Account Manager
Free Website Migration
And more pretty useful assistance.

To get a 30% discount on maintenance plans use this coupon code at the checkout – BFGMC894