December 13, 2022
How to Fix the WordPress Not Sending Emails Error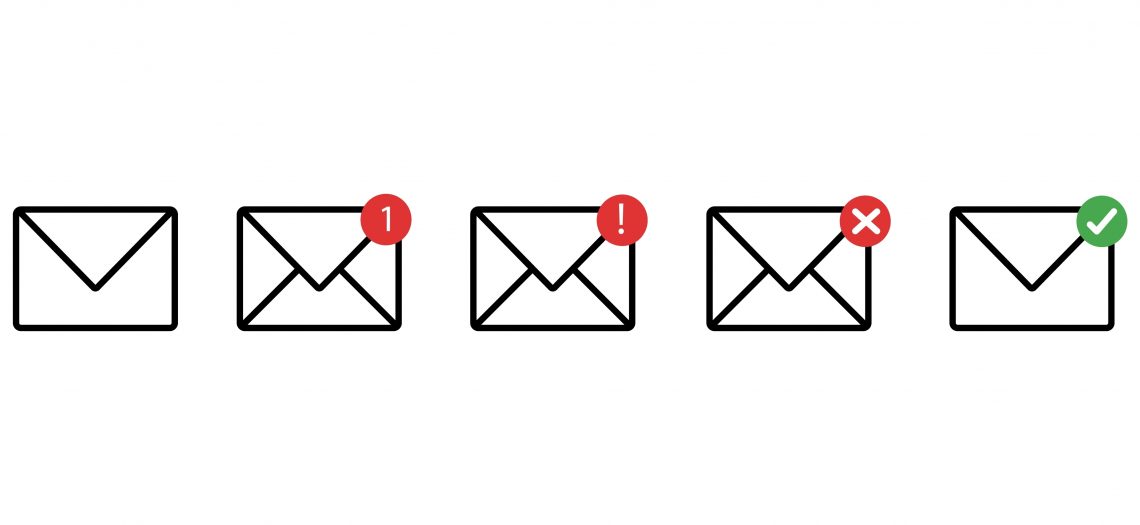 WordPress has many useful features that make it a popular content management system. However, WordPress has some bugs and glitches that can drive you crazy. One of the most frustrating errors you can get is the "WordPress is not sending email" error. In this case, you can't send emails from WordPress using your standard email services like Gmail, Yahoo, or Hotmail.
A WordPress site can only do a little with sending emails to its users. An email must be sent to the correct address to avoid having a big impact on your business.
When you're trying to fix the WordPress not sending emails issue, it's typically not a problem on the server but rather that email is set up incorrectly on the WordPress installation, or there's an incompatibility.
In this article, we'll demonstrate how to pinpoint why WordPress may not be sending emails to you or your intended recipients and provide a solution to get things running smoothly again. We'll cover both regular WordPress sites and WooCommerce stores so that you'll know how to fix email issues no matter what type of site you're running.
How you can fix the issue of not sending emails in WordPress?
4 reasons why WordPress isn't sending emails
There are a few potential reasons your WordPress site might not send emails. It could be a problem with the hosting server, a plugin conflict, or a misconfiguration of email settings.
1. Poor sender reputation
If you're using WordPress to send email and you're having trouble getting your messages delivered, it may be due to your sender reputation.
Your sender reputation is based on the quality of your email content and your sending practices, and it's something that can be monitored by your email service provider. If your sender's reputation is poor, your emails are more likely to be blocked or sent to spam.
There are a few things you can do to improve your sender reputation and make sure your emails get delivered:
Make sure your email content is high quality and relevant to your recipients.
Use a double opt-in process to confirm subscriber email addresses.
Don't send too many emails at once – space out your sends so you're not overwhelming your recipients' inboxes.
Monitor your bounces and unsubscribes, and make sure you're removing people from your list who are no longer interested in hearing from you.
By following these tips, you can improve your sender reputation and make sure your WordPress emails are getting delivered.
2. Emails going to spam
If you're not receiving emails from WordPress, the first thing you should do is check your spam folder. If emails are being sent to your spam folder, then your ISP may be blocking them.
There are a few things you can do to fix the problem of emails going to spam:
First, ensure the correct email address is entered in the WordPress settings. If you're using an email address from a free service like Gmail or Yahoo, ensure that you've configured WordPress to use the correct SMTP settings. Try adding your email address to the "Safe Senders List" in Gmail.
If the problem persists, you may need to contact your hosting provider and ask them to whitelist the IP address of the server that WordPress is running on. Once they do that, emails should start flowing normally.
3. Server Issue
One of the most common reasons WordPress emails aren't being sent is that your server needs to be configured to send them in the first place. Many web servers aren't designed for sending emails, and, likely, your server doesn't have the PHP mail() function configured.
Fortunately, it's easy to check and fix if that's the case.
Checking server configuration
To test whether your WordPress site can send emails, install the free Check Email plugin. This plugin is designed to test if WordPress is installed and configured to send emails.
Go to Tools > Check Email in your WordPress dashboard to use it. Enter an email address in the blank field and click on "Send test email."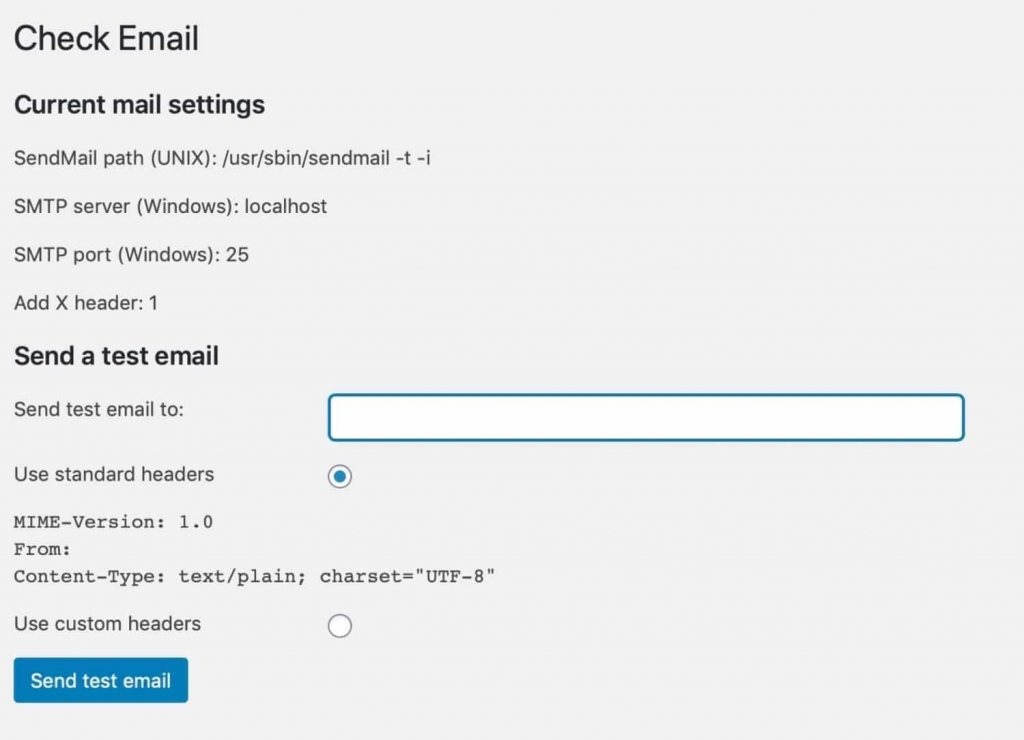 After sending the test email, you'll receive a confirmation message.

Check your email client to find out if you received the test email. You should be able to easily identify it by the subject line, which will read "Test email from https://yourdomain.com."
It's important to check your spam or junk mail folder from time to time, just in case you are still waiting to receive the email in your primary section. If you received an email from WordPress, it means that your web server is configured to send and receive emails just fine.
If you are still waiting to receive emails, there is probably a problem with your contact form plugin or a compatibility issue. You can always ask the plugin creator for assistance. Inform them that you performed the aforementioned test and found that email is operating properly on your WordPress installation.
4. Contact form plugin issue
If you've run the test above and your server is set up to send emails, the plugin sending emails from your WordPress site is malfunctioning. There is a high chance that it's the contact form plugin.
Contact form plugins can sometimes send emails flagged as suspicious by email clients, similar to spam emails. These email clients will mark the email as spam, which can cause issues for the sender.
Spoof emails are those that come from a different address than the one that's added to the From: field. So, if you see a contact form email come in and the From: field says it's from a different address, but you know your email address, and it's not that, it's likely a spoofed email.
You can also have issues if you're sending and receiving emails with the same email address. Therefore, certain email providers might not like it if your forms plugin is configured to send emails to your admin email address and sends emails from your admin email address (which is what it will do by default). Compared to the "spoof" email problem, this is less likely to be a problem.
You will often be the one who receives the notification email for contact forms. This implies that you may quickly fix this issue by changing the settings in your contact form plugin, and you can test whether you are receiving the emails.
Here's a list of affected contact form plugins:
This issue can affect any contact form plugin you might be using. Here are some examples of plugins that may be affected:
Contact Form 7
Gravity Forms
Ninja Forms
Happy Form
weForms
Jetpack Contact Form
Formidable Forms
Before we start with the solutions for fixing the WordPress not sending emails error, we'll look at the steps for setting up SMTP, or Simple Mail Transfer Protocol. SMTP enables you to send and receive emails on WordPress with ease.
Setting up SMTP in WordPress to send Email
SMTP, or Simple Mail Transfer Protocol, is a standard email protocol. It is the most common way for an email to be sent and received and is used by most email programs and services.
SMTP is a very simple protocol used to send emails between servers. When you send an email, your computer contacts the email server and sends the message. The email server contacts the recipient's email server and forwards the message.
If you want to set up SMTP in WordPress to send an email, you'll need to install the WP Mail SMTP plugin.
Once you've installed and activated the plugin, you'll need to enter your SMTP credentials in the plugin settings. You can find these credentials in your email provider's settings.
After entering your SMTP credentials, you'll need to choose a "from" email address. This email address will be used when sending emails from your WordPress site. You can also enter a "from" name, which is the name that will be displayed when someone receives an email from your WordPress site.
You can test the plugin to make sure it's working properly. Once you've confirmed that the plugin is working, you can start sending emails from your WordPress site.
Ways to fix the WordPress not sending emails error
Now that you understand the reasons, there are a few things you can do to try and remedy the situation.
1. Whitelist your email address
If you're sending emails to someone and they're ending up in their spam folder, you can try whitelisting the email address. This means adding the address to a list of approved senders, which should stop the emails from going to spam. To do this, you'll need to contact the recipient and ask them to add your address to their contacts.
The Gmail team suggests that if you want to ensure emails from a particular address always go to your inbox, you should add the address to your contacts list. This will help ensure that future messages from that address won't be sent to spam.
2. Use a safer email address
Consider changing the email address that your site sends emails from. By default, the admin email address is used. If the current email address is generic, like info@, contact@, sales@, etc., there's a higher chance that email providers will assume it's spam.
By creating an alias for your email address, you can ensure that any emails sent to that address are diverted to your normal address. This way, you will get all replies, and your email will look more professional.
3. Use email authentication
If you're worried that your emails will be spam, you can set up email authentication to help ensure that they're delivered safely.
Email authentication involves verifying that your domain is registered and your email server is configured correctly. Once you've done this, you can add a DNS record that will help validate your email server. Email authentication can be complex, but it's worth it if you want to ensure that your emails are delivered safely.
4. Use Gmail or Gsuite
You can use your Gmail or G Suite account to send emails if you have one. WordPress won't require you to input your email login information when utilizing the WP Mail SMTP plugin.
Click the "Google" option for your mailer after configuring WP Mail SMTP to use Gmail or G Suite as previously described. You must select the "Return-Path" checkbox.
You will then be prompted to provide your "Client ID" and "Client Secret." You must establish a web application in your Google account to obtain these details. If that sounds a little intimidating, don't worry.
However, a few significant disadvantages exist to utilizing Gmail or G Suite.
One is to get it operating. You should contact your web host and ask them to install the proper certificate.
Another is that you'll have to repeat the procedure if your email address changes in the future. To do this, a new web application will be made.
5. Use office 365/Outlook
You can use your regular email account to send emails through WordPress if you use Microsoft Office 365 or Outlook. Though it is less secure, this isn't a suggested choice.
You must configure WP Mail SMTP, then pick the "Other SMTP" option. This will bring up a form for you to fill out. Use the following settings to complete it:
SMTP Host: smtp.office365.com
Encryption: TLS
SMTP Port: 587
Auto TLS: (leave switched on)
Authentication: (leave switched on)
SMTP Username: Your Office 365 account email address
SMTP Password: Your Office 365 account password
This solution has a major flaw: it necessitates saving your password in WordPress in plain text. This is unsafe, and any additional administrators to your account can see your password. To enter it in your wp-config.php file instead, follow the instructions in the WP Mail SMTP app.
6. Use Amazon AWS
You can use the Simple Email Service (SES) feature of the Amazon Web Services (AWS) platform to resolve the WordPress email issue. The best thing about Amazon is that you can send up to 62,000 emails for free each month. The arrangement has the drawback of being a little more difficult for beginners, which is why we do not suggest it as our top pick.
But as you can expect, many experts and professionals use Amazon SES as their WordPress email SMTP service. Therefore, we had to mention it in our article. Check out the detailed instructions on how to set up Amazon SES with WordPress if you're interested in doing so.
Use the 'Test Email' tab to ensure emails are being sent successfully, no matter which mailer you choose. You must also check your mailbox to ensure that you received the test email.
Fixing the problem with contact forms
If you're having trouble getting emails from your forms, you need to adjust the settings for those forms.
Let's look at what you need to get each of the most common form plugins to send emails. You've previously tried adding SMTP to your site, or your server is already sending emails (and you've checked the spam folder) for each of these if the emails are still not getting through.
1. Fix Contact Form 7
If you're having trouble with the Contact Form 7 plugin not sending emails, there are a few steps you can try to execute. The trick is to change the email address you're currently using to send emails.
You can do so by following these steps:
Log in to your WordPress site and go to the Dashboard.
In the sidebar, click on Contact and then Contact Forms.

Find the form for which you want to change the email address and open the mail tab.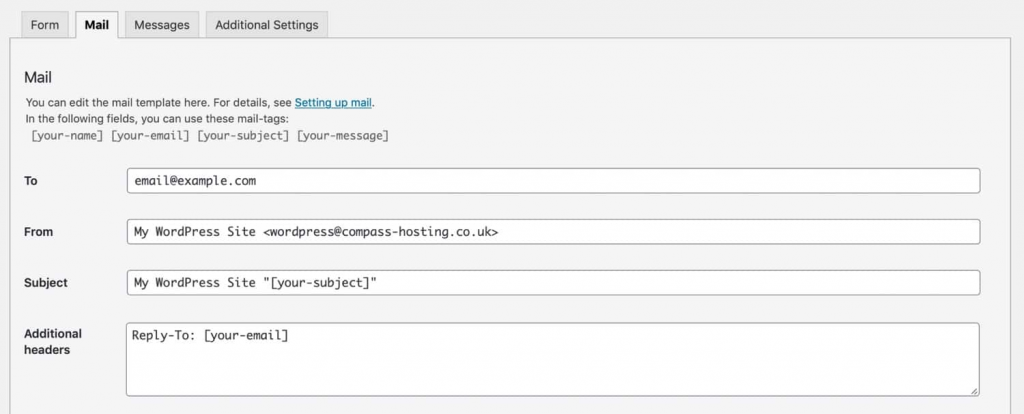 In the From field, enter the email address to which you want messages to be sent.
Save your changes and test the form to ensure it is working correctly.
2. Fix Gravity Forms
One of the most well-known and respected premium form plugins is Gravity Forms. Compared to Contact Form 7, you're less likely to experience issues with emails not sending with this plugin, but it can still happen. The plugin documentation contains comprehensive instructions.
To get everything working again, go through the choices in the documentation in order.
3. Fix Ninja Forms
There are both free and paid versions of Ninja Forms. You may also download a ton of free add-on plugins for it from the WordPress repository. You can use the SendWP plugin, created by the same team that created Ninja Forms, if you are experiencing problems sending emails using Ninja Forms.
SendWP is made to enable SMTP on your server, and you may easily achieve this with the help of free plugins. SendWP won't fix the issue if the issue isn't with your server's inability to send an email.
Therefore, follow the email troubleshooting guide available in their documentation if you want to avoid paying the $9 monthly fee for SendWP.
4. Fix Happy Forms
Happy forms is another plugin that has a free and premium version available. The help section of HappyForms doesn't go into detail about what to do if the emails aren't sent. Similar to Contact Form 7, you can alter the email settings for a specific form to change the email address from which Happy Forms are issued.
Select the form you wish to modify by clicking HappyForms > All Forms. This will launch a screen that resembles the Customizer. Activate the Email tab.

To avoid sending spoof emails, you can adjust the To and From addresses for notifications and confirmations here. After making the necessary changes, test your form by clicking the Update button at the top.
5. Fix weForms
Another form plugin with both free and paid versions is weForms. It enables you to set up the plugin to use an email with a number of email service providers, including SendGrid, WordPress, and others.

It has a troubleshooting guide to assist you in resolving the issue of weForms not sending emails. Refer to the tutorial to locate the issue's cause and restore email functionality.
6. Fix Jetpacks
You may use the default contact form provided by the Jetpack plugin if you're using it. You may accomplish this in WordPress by including a form block on a page or post. Although Jetpack's configuration options are less extensive than those of the specific form plugins, you may modify the email recipient list.
You're less likely to experience email-related issues because Jetpack doesn't use a field from the form in the To or From field of the email. However, you might experience issues because you're sending emails to and from the same address.
Once the form has been added, click the editing button to reveal a dropdown menu. Change the address to which forms are sent by using this.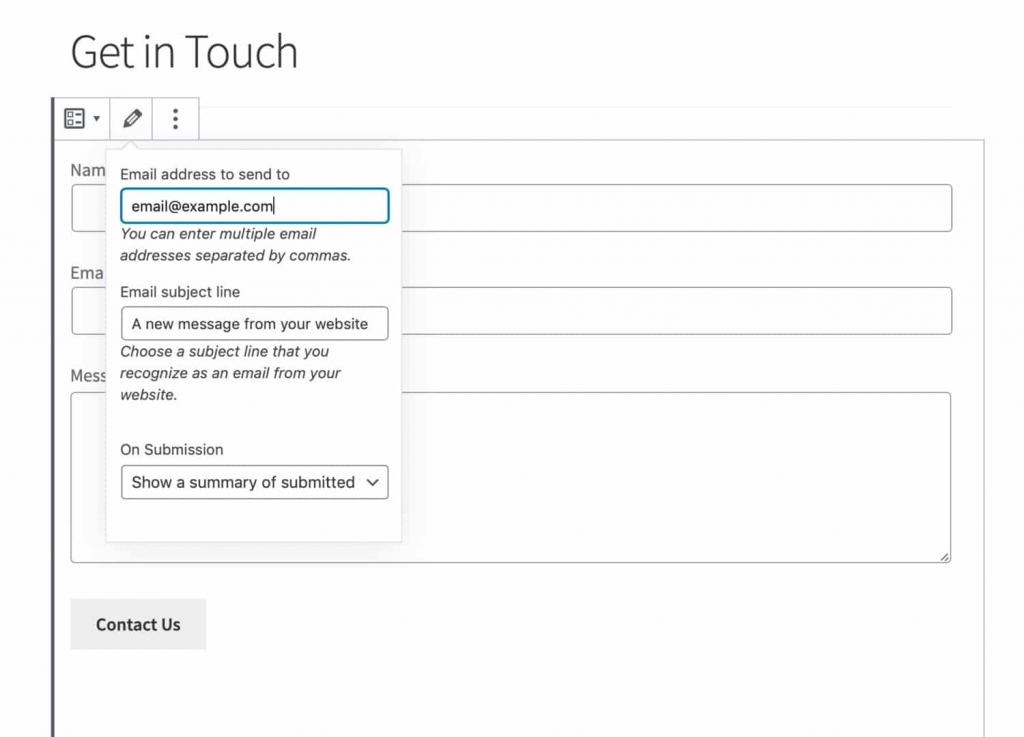 Change your website's admin email address, which the Jetpack form uses, if you wish to alter the email address from which forms are delivered.
7. Fix Formidable Forms
Another form plugin with a free and premium version is Formidable Forms. The official Formidable Forms documentation advises installing SMTP to your website if you are experiencing issues sending emails from your contact forms.
However, what if you've already tried it and nothing has changed? Again, this is probably because your emails are being flagged as "spoof" emails because they are being sent from an erroneous address.
Go to Formidable > Forms in the WordPress admin, and then choose the form you wish to update. The Actions & Notifications tab can be accessed by selecting the Settings tab at the top. Open the Email Notifications meta box from here.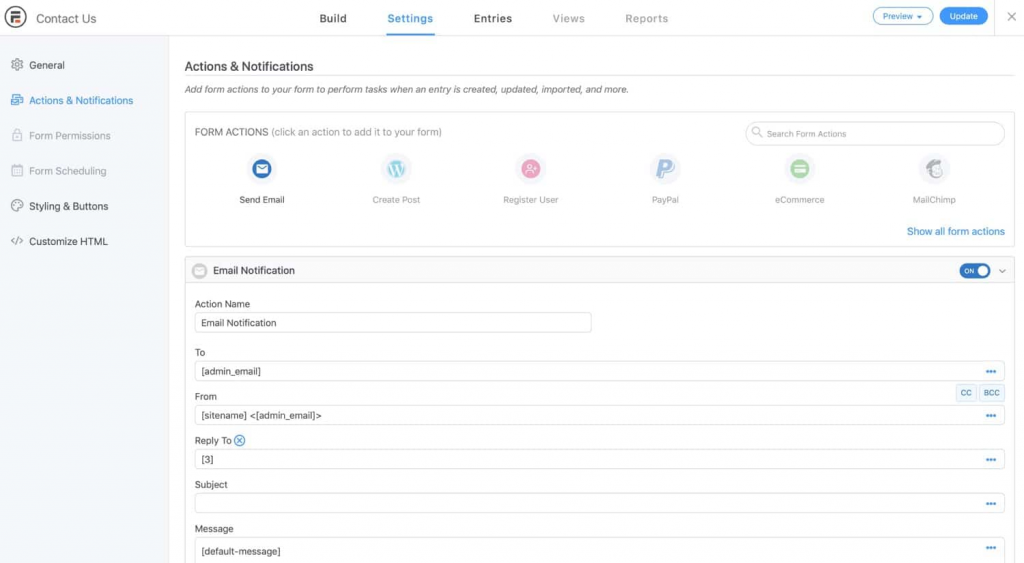 The email address from and to which notifications are sent can be changed here. By default, it will use the admin email address rather than one obtained via the form for both purposes.
Edit the To field and manually enter the email address you want to use to alter the email address to which emails are sent (so it's not the same address they're being sent from).
Please double-check your entry since the settings panel will preserve your changes as you make them.
Wrapping Up
In most cases, the problem is with your server running WordPress, and it's not a WordPress issue. There are just two things you need to do to fix this problem: check your outgoing mail settings and then flush the mail queue on your server. If everything is fine, you can also contact your host and let them know their outgoing email settings are somehow wrong.
If the above solutions do not solve the problem, getting in touch with our WordPress experts is better. Our team of WordPress developers can check if the plugin is working optimally or if there are any configuration errors on your end. We provide comprehensive WordPress maintenance and support services that'll help you focus on your business while we take care of your website 24/7.